Watched Alice in the Wonderland in 3D. Seriously I cannot recall what I watched when I was young (the original Disney cartoon) All I can remember is that Alice shrink damn small and I do not recall the queen nor the mad hatter so yeah this is to let me know what I've missed during my childhood wtf. And then I really like Helena Bonham Carter's character in the movie!!! =DDD She's like super bitch to the max, ME LOIKE!!! hahahaha very funny.
"I love my fat boys. Now leave." HAHAHAHAHAHA
OH and the bunny going I'm late I'm late. :P Well but at least now I have my Mad as a Hatter nail Polish =P
Anyway, totally irrelevant to my objective of this post, the movie was just so so, but I kinda like the effects in 3D =D
I wanted to show you my new loafers. Not sure why but now all I go for is comfort more comfort and more comfort. Things that I think I wouldn't wear it more than twice, I won't get it. And I've been shopping a lot less (oh shit I forgotten my not-yet-check-out basket in Asos shifty eyes)
Nude patent loafers from Tony Bianco, got them on sale.
Thought they look pretty comfy since it's made from real leather and shit, I was soaking wet from the hailstorm that day and decided to change shoes and it gave me blisters. =( It hurt so bad I had to step on the ends to limp. =( And decided to change back to my wet shoes after that, it was that painful. Now when I wear it I'll have to put on bandaids. boo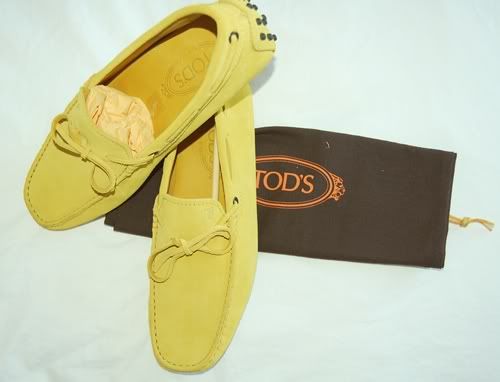 At 60% off I consider it a super bargain =D
It is by far, the
most most most comfortable
pair of shoes I ever own!!! Not even Havaianas ok, those are slippers. I love how when I slip my feet inside, the soft leather wraps my feet. I finally understand what Glen meant when he told me he tried on some football shoes and loves how the leather wraps around his feet. I understand!!!! :D
And the best part? They're men's shoes :P:P:P

Too bad they're suede I cannot wear them anytime I want, but I don't mind investing in another pair of black ones because they are THAT comfy!!!! Mad love. Now is to find the outfit to wear em. =P

Sorry but I dunno why but I can carry off the weirdest things on the racks, and these shoes are not exactly the prettiest things but the comfort it brought me... Sold.