Today, Anzac day, it was an off day for me anyway. So me and the housemates decided to wake up at 9 to go for DimSum buffet!! Eat all you can lol I love the egg tarts there, the rest was just okay. Nothing beats Zhuhai's Jin Yue Xuan!!! Nobody, not even top restaurants or hotels!!!
Popped by rooftop bar!! I never knew such a place existed, it was situated on the 6th floor (well the lift brought us max up to 6th floor) and climbed up these exposed staircase where you can see the bottom, and it's just made from fences and it's just scary!!! Railings that can see through to the ground is just eery and creepy I thought I might just fall and die =/ So anyway, nice weather, prolly 23 degrees with sunshine!! LOVE IT!!!
fake grass and beach chairs, one word chillax wtf.
love how the clouds are reflected onto the building windows. :)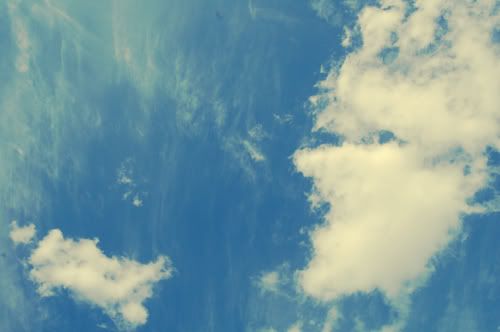 love the blue skies above my black regrowth =P
just cause you haven't seen enough of my face. I was really happy today. Till now. :)
random "artwork" at the entrance after the scary stairs.
And then we went to this bookstore. It's my kinda bookstore which sells all sorts of random books, and they have those cute postcards and other interesting shit. I've always wanted to buy books with inspiring philosophical quotes about life love everything. Then I found this small book, which resembles a mini moleskin which says Book of Dreams. I just flipped a few pages over and see somewhat a dictionary like book, with alphabets and vocabularies, with messages underneath. I thought it's a book of dreams that go according to the alphabets so I got it. And little did I know it was actually Fortune Telling: Book of Dreams. A small part of me love fortune telling cause I hate forecasting the future and uncertainties. I want to know what my future is but I'm afraid if I go to a gypsy fortune teller or tarot card teller they'll tell me I'll die tomorrow. =/ I'm a walking contradiction. Often I want to know what would happen. I always read horoscope and zodiacs in hope that the things they mention will happen. (some did really happen, like the horse in tiger year thing)
Then I looked again in the vocabs in the book. I realised often my dreams are black and white. Colours don't come easy neither I remember them well enough if they're painted in colours or just monochrome. And then my dreams are often mundane, like normal life I lead, I hardly remember what I dreamt off. The most significant was this same dream I had for 3 times, it was an eagle, flying in a car park. No idea what it meant but some times things are just so weird. Now that I mention about it, I never realise that dreams can tell so many things about life, I always thought dreaming might mean you're stressed or heaty wtf!
So what did you dream of last night?? :)
Been taking some outfit shots lately. As usual, I don't dress up as fancy when I'm out with my housemates wtf, you may ask why because I get "the look" when I dress the mustard way!!! HAHA Sorry I'm shy like that =p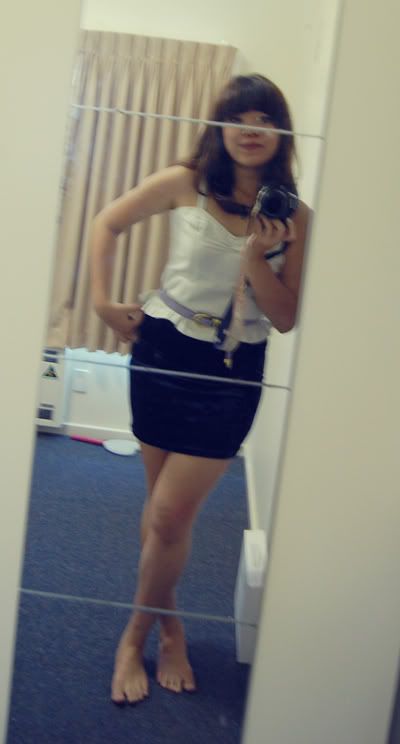 bustier with side pleats and back zip: Sportsgirl ($7 WIN!!)
velvet bodycon: Topshop
belt: Forever New
shoes not pictured: Tony Bianco
I like my top!!! Not because it's $7 (was on sale for 9.95 and additional 30% off win!) but I love the material (thick denim ish cotton) and also the pleats at the side!! I like! =P