It must be the hormones (confirmed lol) and I want a baby now. But erm, only for me to play and I cannot his/her education funds in the future NOW wtf, not in the future cause I am quite sure I'll be working and earning money and living a good life *optimistic*
I see babies everywhere and they are all so cute (sorry only angmoh babies) and they love me I tell you :P Last last Friday before Sydney I was at Springvale eating dimsum and this little boy came to our table (jing was in the toilet) and he wanted to reach for this card but there was soy sauce plate so I moved the soy sauce plate and then he hid himself behind the pillar next to the table. *CUTE* Then we were "peek-a-boo"-ing for like few minutes until the father cannot take it and carried him away. :P Then he waved bye to me when he left, SO SWEET and this is an Asian kid =P And I think they're from Malaysia cause of the slang :P:P:P
Then there's THIS baby girl. Melt**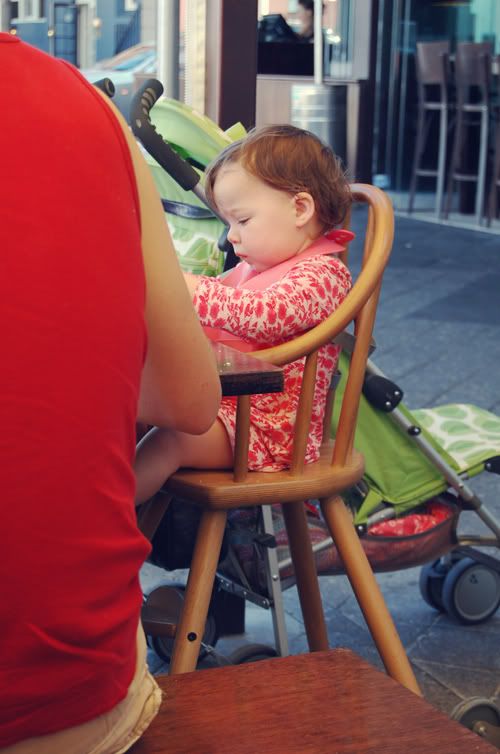 grumpehhhh cause she has no pizza!!
yeay i hassa buffalo mozzarella :D
Then she was playing with food and all and happily throwing it to the pigeon and to her grandma hahahahahaha and she slowly looked at the pigeon walking under her babychair and continued to smile at me. :P Then she waved her bottle at me and I gave her a toast wtf
how. I think I need to go sperm bank now wtf.
then she flirt with me by pulling her skirt and her dad trying to cover. When I was little whenever any of us does this in public, my mom will go like "aiyo shame shame" haha I wanted to tell her that =P And she waved bye to me *melt*
still want a baby.
Sorry but I don't get why all my sisters' friends say I would be a good mother?? :P