Things you can do with a reduced RM 69 Topshop
silk
polyester tank. I hate it when it feels so nice but you know they got to be kidding you that it's real silk and yeah you were conned -_- 100% Polyester EVERYTIME I flip the tag. I miss the times when you see 100% wool, 100% Rayon, 100% Silk.
BUT THEY ALL COME WITH A PRICE T_T
But at least my topshop cardi is 90% Wool, 5 % Acrylic and 5% Mohair (wtf is this sounds like MOU as in bulu and hair blend wtf gross) :D Beats jing's 70% hahahahaha =p
Today I am going to show you, how you play, twist, and twirl with a silk top and make your very own Burberry twisty top/skirt/jacket.
All you need is:
Silk top (optional, polyester preferred wtf)
Fingers
Creativity
Brains to think how to secure the knots
Was bored in accounting lecture and was playing with my top. Was twirling with my finger and I realise what beautiful drapes I can create with my fingers and silk!!! :D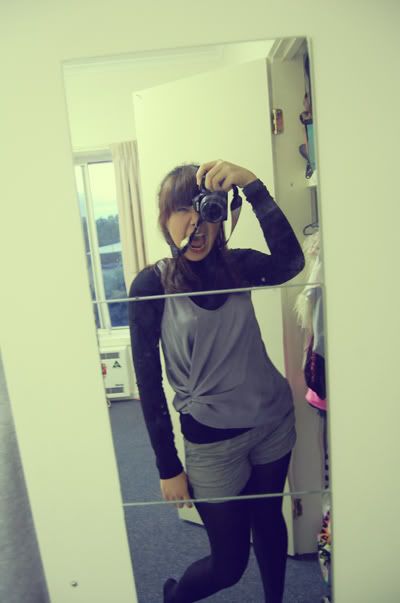 hehe BUDGET :P Not bad right???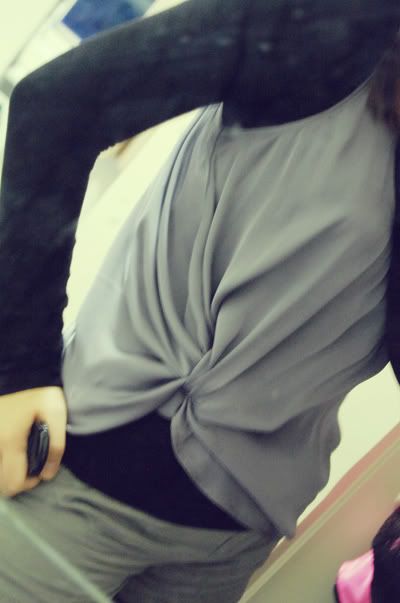 If you can recreate this, I'll give you a virtual slap haha
Cause I never smile
Another way of twirling. :D
Not very functional way of wearing unless you have Allesandra Ambrosio's stomach, hence me covering up wtf. It was 9 degrees k and the turtle neck was so thin *strong*
new burn from work D: And said triangle burnt mark. T_T I think end of my working life, I'll have like marks forming a cupid with an arrow wtf -_-