I was roaming on the streets of Melbourne, shopping. YES SHOPPING wtf am I doing, I was supposed to get ingredients to bake but I make a HUGE detour all the way to Melbourne Central and discovered some hidden gems that I never had the chance or guts to go in. They were, PRETTY, and not to mention expensive *cough*. I scored a dress on sale, and a necklace with discount when I sign up for a membership, free so why not! :D
And then it suddenly struck me that Spring 2011 is coming (well at least in the rest of the world but not Australia and Malaysia) and I went high and low searching for a plain white tee. YES, like the one the models wore in Jil Sander, that is exactly what I'm looking for!! I attempted to go on Jil Sander's website to look for it but NO they don't sell plain white tee -_- and overpriced of course.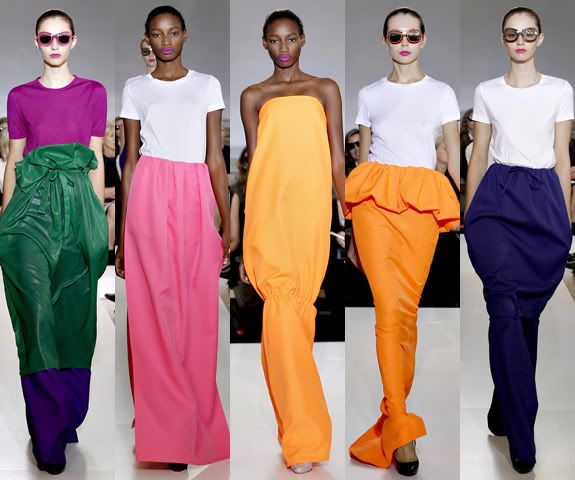 So I went to all major department stores (have you seen the new Myers, it's IMPRESSIVE) Bonds, Country Road, Saba (shioyaki wtf I always have that thought when I see that store hahaha), Scanlan Theodore (never heard of it right, I only know of this brand recently haha)
And I'm so inspired by like a lot of people to be like a bohemian gipsy, hippie hobo wtf and another hand I wanna be all simplistic minimalistic hence the search for the white shirt begun. jengjeng.
Not a fan of prada 2011's looks =/ The wedges, seriously? OH one thing I do like is the fur =3
anyone can tell me where to find a thick comfy white tee?? I do have one but it has silver eyelets all over wtf -_- and it's cropped -_-