HAPYY FATHER'S DAY DADDY HOE!!! You know, words can never express the love I have for my dad, even if I don't say it, I don't show it. Maybe it runs in the family, we don't show our love but it's like an understood thing. I know he sayangs me and he would know the time when I need a pat on the head (aww) or when I need some good pushing (like to get a job haha). And he secretly supports my dream to cook like a chef cause he gets to try some of the end products!!! And he's been telling me what I should cook for the auditions, but I went with my instincts la. Always go with your instincts I say.
Brother Hoe's birthday was last week and was supposed to bake some snicker cupcakes for him and his friends and their parents for his birthday lunch. I baked about 2 dozens (I took one to "taste") and he was in the kitchen while I was filling em cupcakes with caramel.
He said "You should keep your cupcakes properly cause the stray cats will come in and eat them"
I grinned. HAHA!! Windows sealed, doors close, the only cat that will eat them is my DAD! hahahahahaa
*********************************************
FINALLY satisfied my cake cravings after reading this post from
Smitten Kitchen
. Ok fine, finally satisfied my craving for a real CAKE after talking about it over and over again on Twitter. Those who're following me, I'm sorry, I'm on cake craze, and the pictures on my dashboard ain't helping either!
I think my definition of a proper cake is... LAYERS. Layers and layers of cake. I get damn turned on when I see cakes with awesome buttercream, layered in between mousse or sponge or cheesecake. mmmmmmm.
Dobos Torte mustard style!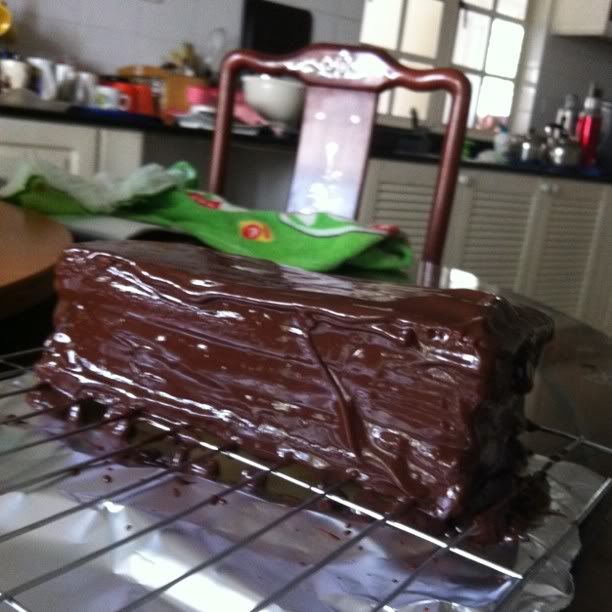 Can't be arsed for food photography but good enough to have a smart phone =P (yes I got my iphone after like... I dunno, damn long)
And yes, it's rest day. Rest day is bake day. :D