If there is one thing that I'm so so so frustrated about these fitness thing is that, after all the weight I lost (a few kgs only, nothing much don't be shock!!), is that my clothes no longer fit that well. Especially my bottoms!!
Yes, the before after pics I've shown before was pretty drastic and some of my pants are falling off my hips. But the attachment you have for a piece of clothing is just, I dunno you can't really describe that feeling but you just have an emotional attachment towards each and every piece of clothing you have, right? Or am I right?
During Wen's buying trip in Korea (was vacation for me and Jing though haha) I was really happy cause I could actually fit in most of the clothes!! Providing some came with sizes, I could fit into a size M (some L la haha) and that was before I look a lot "thinner" (the weight loss thing only became obvious around end of April, early May).
And with the confidence I gained from all these hard work, I'd love to wear nice clothes too!!! And with pretty clothes, confidence will come naturally from within =P For me at least!
And because good things are meant to be shared and because I do, really love love love pretty clothes, I'd like to share with you
Azorias
. My sister's and her partners' brainchild resulting from seceral months of brain juice squeezing sesh, brainstorming day and night. Bringing you work and play outfits exclusively brought in from Korea, in tip top quality (Seriously, every single piece of clothing I got from Korea is like heaven and hell compared to the shit I bought in Bkk no offense!!) and god I just love how the silky chiffon tops slides on my skin when I wear them =3
Remember this dress?? I call this my Lucky Dress cause I wore this to my first auditions for Masterchef!! :D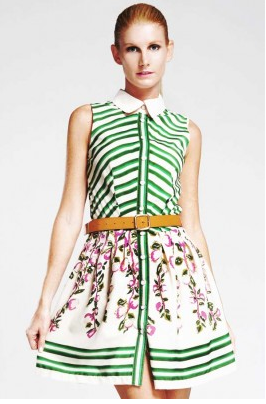 I love the print, I love the cut, I love everything about the dress!!! I even wore it as a skirt! =p My mom's best friend was like "Hey I thought this is a dress" I replied "I tucked it in and wore a top over". They looked at me with the biggest glare with a virtual light bulb on top of their heads lol.
To those of you who're asking (about the dress, it's sold out already!!!) about the Masterchef auditions results, it's not out yet!! I too, am super excited/ganjiong/anxious about the results!! Please pray hard hard for me k?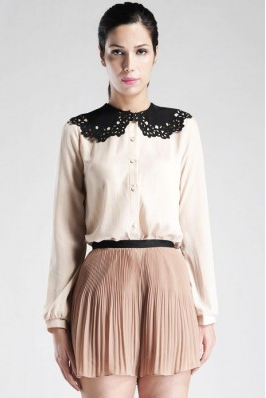 Pleated skorts
. For which I absolutely adore. Love the gorgeous pleats and the grosgrain trimming. And for once I could fit into an M, what not to love? :D GROSGRAIN. :D
Floral Georgette printed blouse
, I love this piece cause it looks a little like the infamous ACNE piece, but better! With bias hems and so slouchy and comfy, I wore this to Deadmau5 concert and it was the best choice, airy!!! :D
Sheer Trench
(Stella McCartney suck my toes cause you're so overpriced!) I got this obsession with sheer trench after watching Project Runway which Rachel (i think that's her name) created a sheer trench coat, it was divine! I got this too!! Will definitely take pics of me wearing it =p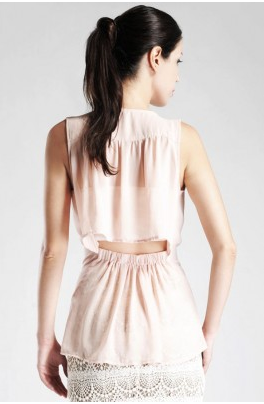 Cape back chiffon blousson
. Not sure about you, but the humid weather of Malaysia makes me wanna wear some open back tops. Love the open back cape design, and I can finally show my sexy back!! You know that line down your back? Yea that one, I finally have some haha!!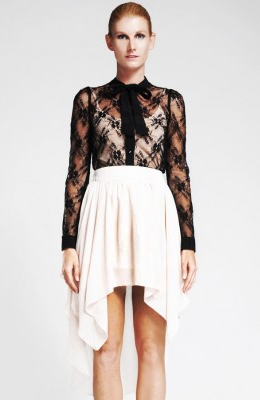 Bias Hem Waterfall Chiffon Skirt
. I've been looking for an asymmetrical skirt for the longest time after seeing Topshop UK having some. But the floral prints were a tad too cliche with the spring/summer campaign going on. Perfect colour, light weight and I can tie up the side and make it something funky!! :D Ok that reminds me I need to snag up a piece too ehehehehe
By the way, new arrivals just launched at
AZORIAS
. Hop on and get started on shopping. ;)