MERRY CHRISTMAS!! :D Feeling extra festive today cause I get to roast a chicken, spent 15 minutes tackling the damn headless creature with cotton strings to truss the damn bird! And I realize they chop off its ass -_- You know you need to tie onto the tail and then you start trussing the chicken and yes, no ass, so I had to improvise -_-
Anyway!! More pictures of my previous Singapore trip :D Had dinner at Antoinette cause Alison recommended!!! And because it's a pretty place, with PRETTY desserts, with pretty macarons, so a yes for me. It's pretty near Lavender station and I had this sudden urge or getting TOMS shoes, and it happen to be a Saturday shops closes at 11 :D WIN WIN situation. Off to the MRT we go and Got my TOMS and other shit Mua ha ha ha ha ha.ha ha. ha ha.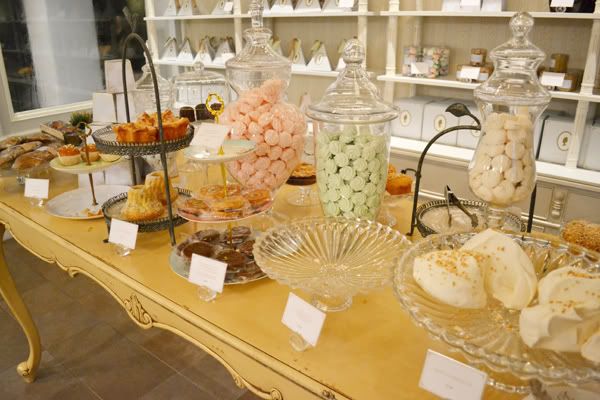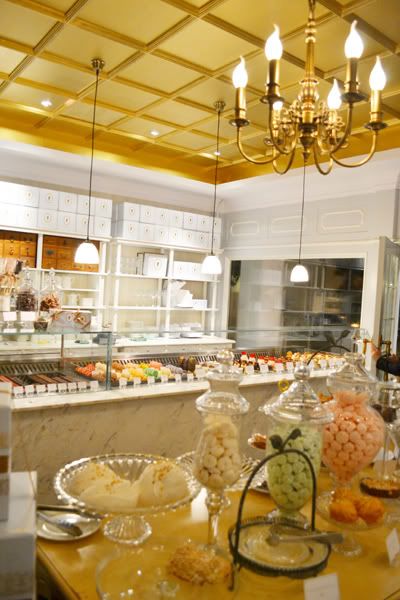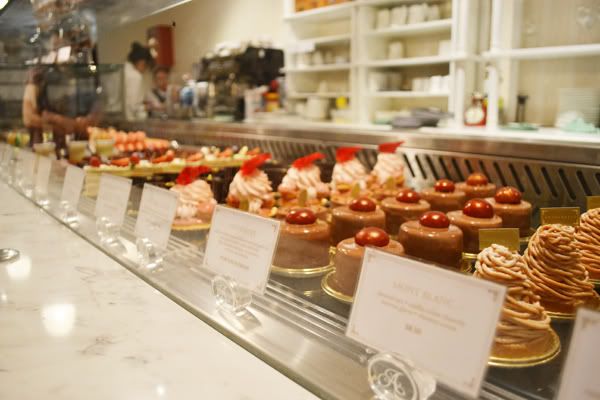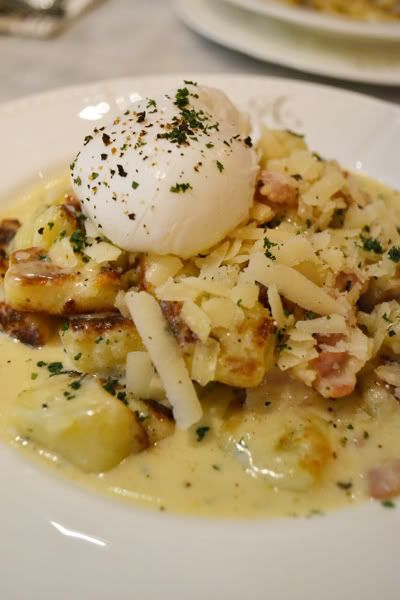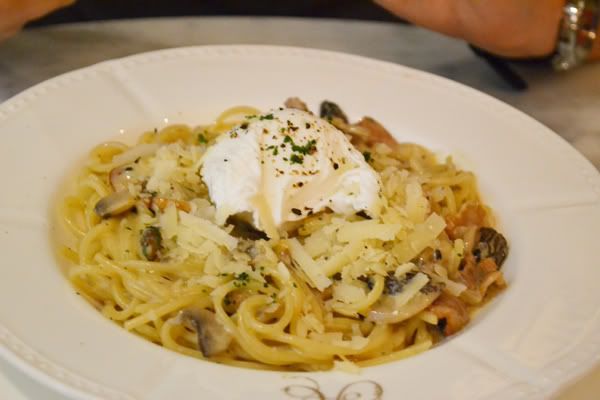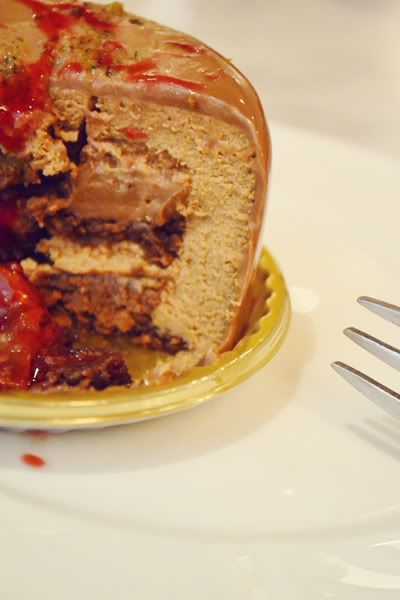 It was freaking raining that day and the restaurant is FREEZING cold (hence my unglam photo but I had to post it cause I look, well, cold!) I'm such a sucker for meringue cookies tucked well in a glass container in all shapes and sizes!!! And and and my dream is to own a really pretty cake stand with a really pretty cake on it!! (I still haven't get on my birthday cake project and my birthday was 3 weeks ago -_-)

I had the gnocchi with bacon ($18) and Nancy had carbonara ($18). Actually they both tasted the same cause they had bacon and cream sauce! Initial taste was really satisfying, cream, the smokey flavour of bacon and soft cushiony gnocci. And after 20 gnocchis later I was feeling pretty sick to the core. I dunno why but everytime I have gnocchi it's just damn jelak!! It's just potato and flour lor, why!? I don't see how I get jelak with pasta when pasta is like 100% flour + water and gnocchi has potatoes in it and I love my potatoes mashed! Didn't expect much from the mains cause after all this place is call Antoinette (think Marie Antoinette, and let them eat cake, I suppose this is more of a high tea place than a place for mains)

Anyway, the macarons there were yums! Better than High Society's one cause there's a balance in sweetness! My personal favourite was the hazelnut praline (can't go wrong with anything hazelnut, think ferrero vocher and nutella :D) and the violet. I can't remember how the violet tasted already since it was almost a month ago, but it's not lavender flavour. I really can't recall, but rest assured, it's a pleasant flavour that I keep telling myself that I'll have it again! Rose was pretty good too! If only they have Champagne (like Lindt's!) I think they'd make pretty good ones. hurhur

As for desserts, I had Antoinette. It's chocolate hazelnut mousse infused with earl grey with some crispy puff like pastry (but it's not puff pastry it's biscuity but flaky I can't recall the name =( ) and see that globe above it? It's actually a sphere of RASPBERRY COULIS. Looks like a fucking crime scene after I cut it open. I have a video of it but I'm too lazy to edit heh heh.

Macarons range from SGD 2.50- SGD 3.00. Pretty steep if you convert it to ringgit la of course who ask you to convert!? Give it a try! I also heard that Canele has pretty good macarons but no luck! Was too busy roaming around and no time to try T__T And also this sugar cut thing ain't helping my dessert cravings either -_- meh.

Here's a rudolph picture of me! :D
Merry Christmas :D