The cold breeze on my face, so cold my nose got frozen and started getting runny.
I kinda miss Melbourne.
So quickly 4 weeks has come and gone, and it's about time to pack. Friday tomorrow, and I'll be flying off on Sunday night, not sure how much of things I will be packing, but only one textbook (FAIL!). Went Sunway to hunt for textbooks but fail. PLAN FAIL! Went to all 3 major uni book store and NONE of them sell the books I want. IS YOU MAD???
I am actually quite looking forward to going back. But not so looking forward for the bestie to be leaving to San Francisco. The only dilemma I'm facing. Cause I won't be seeing her for a year or two, and the worst thing is US is fer-frigging FAR! Been spending most of my time with her and gosh I know I'll miss those times a lot. I cannot say "AIYA can spend time together when I come back next time" till she graduates.
Holidays been not very productive. The so called planned 2 facials in a month one right after i touch down and one more before I depart. FAIL. I only went once this week.
The DIY plans I had in mind, and all the inspirations, nothing done. Ok maybe one, But I lost it. GAH!
Something tells me it is better to leave this place I call home. Something tells me that I should consider staying in Australia. But i cannot decide. I thought of it but I don't know. There are still areas that are still filled with question marks that I could not figure out. Maybe because things did not turn out how I wanted it to be here and maybe, it is probably why I think Melbourne would be a better place. =( It might be a new start of something, might be something that I've been seeking for my entire life, a dream, a goal just something I wish to pursue (definitely not accounting!)
but the thing is I do not know what I want. Suddenly all of the wants that I've been lusting all over, all my life, I actually would want to know what I actually WANT in my life. I don't want to learn to know what I want but in this stage I want to know it right away.
maybe it's time to get back to reality.
to brighten things a bit, here's a super cute shirt I got myself and e bestie. :)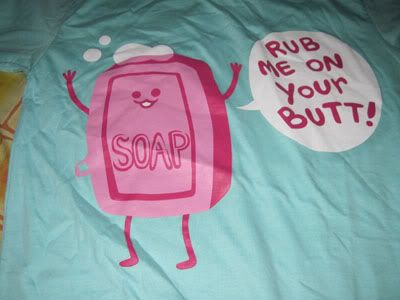 we'll never stop learning would we?