Repeat with me neon leon neon leon leon neon CONFUSING RIGHT
yeah that's our theme this year to celebrate Leon's birthday!! Man haven't been celebrating his birthday since his 21st!!! (HOW CAN i die die must celebrate every year. MUST!)
So... we have been planning to get 27 random things (cause he's 27 this year) and we know he is the most random person ever on earth (think sending random stupid videos on youtube and loves domo kun wtf how random can one get ahahaha and figurines, otaku much? but cool otaku with neon coloured headphones :P)
Leon's seriously like a big brother you can count on cause he knows like EVERYTHING, he has mini toolbox (i think) that you can borrow to fix your shit like my clothes rack which is now dismantled cause no space, shoe rack (it's up haha and filled with shoes) and he can fix everything in a jiffy and everything seem so easy lor!! Also he called everyone to come pick me up when I called for help cause I met a wanker in the train fml T_T And think this is the only birthday we'll be celebrating with him in Melbourne cause he's graduating next June!!!
free shutter shades from magazine hahahahaha it happened on his birthday itself when we went to Springvale for dinner and he showed us and all of us thought to ourselves "this just made his birthday better!!:D" knowing what we have prepared for him at 'home'.
and we deco-ed his door with neon coloured paper and TOY SOLDIERS HAHAHAHAHHA :D
so cute right hahahahahaha stuck on the door with blu-tack ahahahahhahahahaa
we surprised him with cake and giftSSSSS and made him wear a neon green hula skirt hahahahahahahahaha with his shades hahahahahahaha
got him a burger pillow at Chaddie on wednesday after peninsula (imagine how tiring T_T)
And I have to carry the pillow back alone (cause jon have to go springvale to cut hair and meetup with Leon) and seriously I feel like a sohai carrying a cake, books and the hamburger T_T and of all places, Berwick station has to be the one all the people get off T__________T And it was about 3pm and all the students are getting ready to go home waiting at the station T______T as if I'm not embarrassed enough T__________T
Then this lady came up to me and squeeze the burger and laughed and said ' I love your pillow *laughs*' she seem more excited than me T_T imagine holding a huge ass burger walking around the mall -_____-
i is so chio hahahahahahahahahahahahahahahahahahaahahahahahah I want one!!! Eh man man is this the Lam Ah Zan glasses you're talking about hahahahaa (had to make this picture bigass haha)
Classic.... one of the resident's apron HAAHAHAHAHAH Michel Angelo hahahahahahahaha OBSCENE LA!!!!
I just had to. LOLLOLOLOLOLOLOLOLOLOLOLLOLOLOLOLLLLL aahhaahahahahhahahhaha BWAHAHAHAHAHAHAHAHAHAHAAHHAHAHAHAHA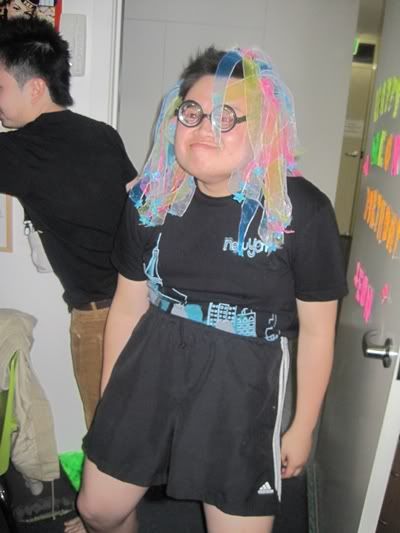 he win. so sexy la....
Family Portrait :))) we're clearly taking a dump <-- inside joke :P
Sigh, quite glad I'm not celebrating my birthday in Melbourne cause, i dunno what I'll get. Prolly like shit on my door and erm... maybe Shoes! :D And quite emo cause this year I won't be celebrating my birthday with Yin the bestie T______T emoooooooooo