What I have been up to?
SISTER JING IS IN TOWN YA'LL :D:D:D:D:D:D:D:D
But not so good news, I have an assignment due, not big, just 2000 words and 15% worth, it's actually nothing compared to some 50% assignment. But then I'll have to sleep late every night and wake up early to join her to venture around Melbourne. =(
I think I am falling sick soon, not enough rest. =(
crazy nice sunset outside my room one random night. I switched off my lights and saw the skies were fading into shades of pink and navy. :)
And on Thursday while walking back from Woolworths after my jogging session (ran to safeway to get groeceries so healthy wtf) then I saw the sunset, it was pink!!!!! And pink clouds were covering the sun, and last rays of sunlight were shining through. :)
huhu my love collapsed but I fixed it now. =( So sad it won't last wouldn't it (metaphorically and literally)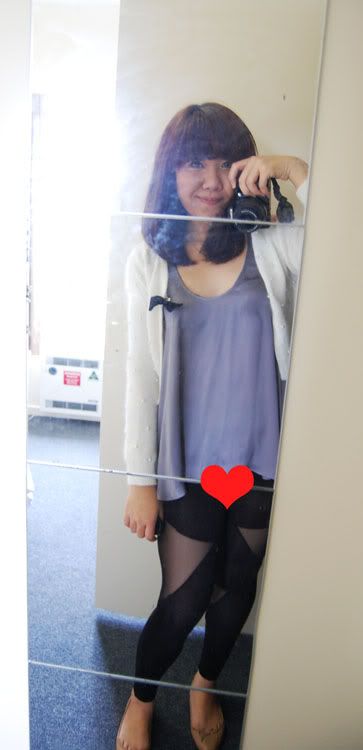 too poor have to sew patches of sheer cloth onto my leggings boo!!!
Buy the iPod already!!!
:D
reason why thou shan't wear leggings as pants. -_- I actually wore a longer top underneath my silk top!!! =D
cardi with pearls: macau
grey asymmetrical hem top: topshop
leggings: asos
shoes: country road
yeah those are my new leggings they're so so soft :D but slightly sheer when worn though (sorry la my legs very fat cannot ar)