UPDATE:
Please pray for me that tomorrow's trial will be good, I don't care the job is unglam and shit but I need a job!!! To pay off my ridiculous spendings!!! =/ And also PRAY HARD for me that the pay will be roughly around the so called "minimum wage" seeing that it's rather dodgy wtf
Will update about it later if it's successful :)
Are you aware that nowadays, all the fashion blogs and whoever have been talking about braids and more braids and more braids I even wanna braid my brows if I have the chance to grow it out wtf
Then I found that, the infamous fishtail braid isn't exactly THAT HARD after watching this american girl with French accent on Youtube braiding while reading a book or checking herself out in the mirror by looking down(!!!!) or just staring off space. Is she PRO or what!?
And then the American Girl with French Accent (let's call her AGFA wtf) said it's good for those with layered hair *DINGDING plus point for me cause my hair is sorta layered (by myself) so I tried! :D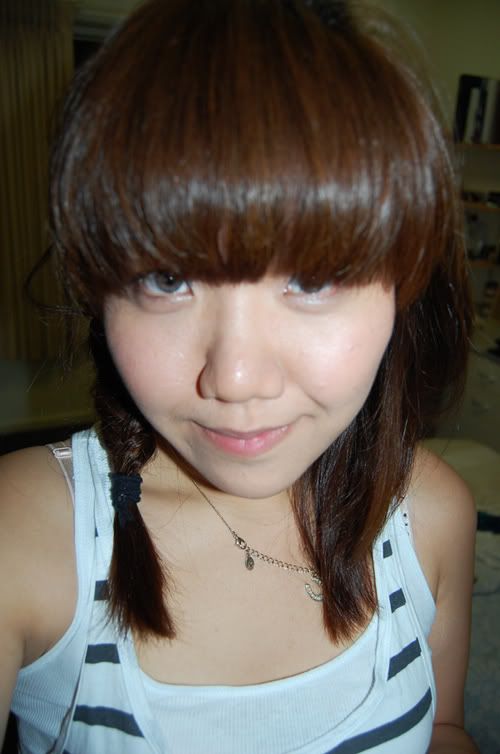 FAIL (pardon my tired face it was like 11pm at night and I'm up doing nothing but braiding my hair hence the worn out makeup and tired fat face boo)
Half of my hair fell out from my braid -_- So much for good for layered cuts cause it wraps the hair in D: D: D: the horror
Then second attempt :)
I wish I had more patience in sectioning the hair into smaller parts instead of big chunks of hair lolllllll BUT not bad eh? :P Sorry la hair very short -.-
Excuse myself while I go attempt another fish braid :P