This is so fun!!! I can recreate my looks here without having to take pictures of myself and get all depress when I liquify myself to half my original size, AND I don't have to take the effort to actually take a picture, slab on makeup and smile for it! Haha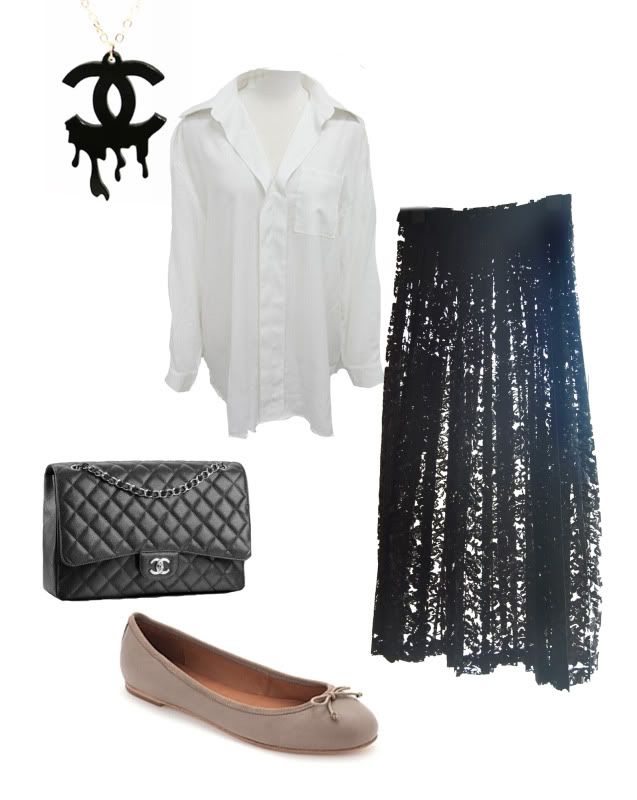 Zhuhai

slouchy white top with pockets,

Vintage

lace pleated skirt (yes without lining haha),

Alex+Chloe

necklace,

Country Road

nude ballet pumps,

Chanel

bag, random tan belt not pictured.
Chaddie sale today. YES I was the girl with the see through lace skirt and YES I was wearing a black skirt/spandex whatever you call it underneath so it's not my underwear. and YES the skirt is fucking tight cause it's a vintage size 10 and I'm a modern size 12, it makes a difference. People from the past seem to have smaller waist!! HEH!

So... what did YOU buy today? I'm a happy kid :P:P:P

some items may differ from real life cause I don't exactly have a picture of the top that I wore today, but it's the same top but shorter sleeves, the skirt is a picture I snap this morning before heading out and flash myself wtf, my bag is lambskin not caviar, and the ballet flats is now very smelly and old and the leather is torn and is actually a nude/light tan colour. meh.