Follow me on
Twitter
(it's locked just to make sure you're not some 40 year old creep)
I've been put on a mission to clean my room (and jing's, we share a room, we sleep together wtf) and was given X amount to do it as a reward but now I doubt the reward can be redeemed cause I didn't clean the other parts of the house. la la la.
So, steps to clear shit in the room:
1. Pack all of jing's clothes on the floor, pack it in a black rubbish bag and
throw it
put it on the top cabinet that hasn't been used since we moved in (read: 10 years)
2. Throw all unnecessary shit that hasn't been touched for more than a year and above, which includes old magazines on top of the "study", earings that hasn't been worn since 2005 (trends came and went, oh shit should I be keeping them).
3. Clear the drawers, with "art work" I kept since primary 5 -_- SERIOUSLY that was the year I moved hahaha
Attitude:
1. cruel
2. mean
3. heartless
It was quite easy. Just throw whatever I haven't touched/seen for ages. But I did NOT throw away my old sticker album and photos. :) Those are memories.
And also cross stitch guide books, who knows someday I might need them to sew cushions in my future home. Ahhh memories, I used to be so obsessed over them I spent hundreds of dollars on them. I even once sewn this Stila girl for their 10th anniversary competition for Citta Bella for a RM500 hamper. I won. I received a package with a congratulatory note and goodies with several free makeover which I shared with my sisters.
Just some pictures of my favourite corner in the room :) And also the time I spent most other than my bed haha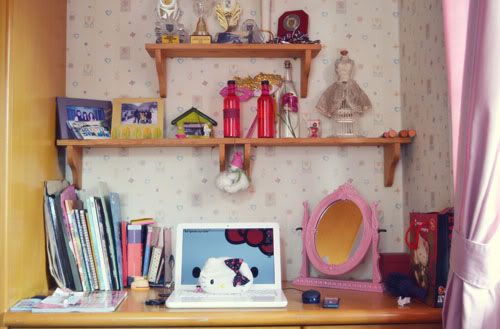 love my new mirror. It was a gift from Naomi when she was trying to clear her things at Tea & Sympathy =((( Gonna miss that place and the pretty things T_T
I'm Kitty obsessed all of a sudden. Even my desktop image is Kitty now :D No more geeky fat cat with glasses heeee
And I found my Kitty merchandise from Taiwan (ok not found but finally opened them) and realise my Hello Kitty was dressed in a Bunny French Maid :) PERFECT for this lunar new year. BUNNEHHHH :D
It's a mechanical pencil! (thought it's a pen but then ink runs our quicker!) and this little sucker cost a bomb I could easily buy 8 to 10 normal mechanical pencils -_- BUT ITS PURDEEEE
Yeah shall take summore pictures of my room later. :) Hopefully I'll get a super nice shoe racks for my shoes hehe some of them are still in Melbourne and some are still in my suitcase -_-