It was wen's birthday on the 23rd and off we go to pavilion to grab her present but NOOOOO!!! The Bianca clutch she's been eying for ages was sold out and it was sorta a wasted trip (but I got new lipstick so I'm cool with that haha)
Cheesecake for the broken souls (was supposed to be her birthday cake but I ate it all wtf). Did I mention I have a super soft spot for cheesecakes?? Oreo, chocolate, caramel, lemon, marble, any kinds of cheesecake will make me smile (just that my weighing scale will hate me).
I set an alarm at 8am to head to Tesco to grab some ingredients to actually bake a cheesecake for Wen but I accidentally hit Stop instead of Snooze. >.> Why did they invent the Snooze button anyway?
Just to show you this top I got from Korea that I reallllly love. It's like, I dunno I feel like a princess when I'm wearing it :P (yalah cannot marry the royal family then at least I "dress" like one wtf)
top: korea; skirt: zara; shoes: tony bianco; bag: chanel
And pretty swings for Daisy by Marc Jacobs at pavilion. pretty =D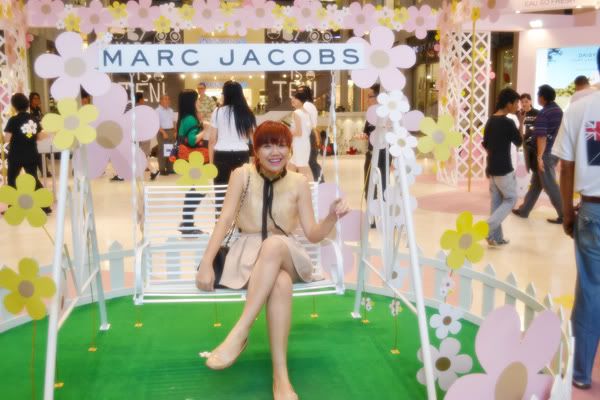 Sorry I look almost naked with the naked palette thing going on hahahahaha
ps: I hate how flabby my arms are and how broad my shoulders are that... I had to liquify half of myself wtf -_- story of my life
pps: good news to myself, I finally surpass the plateau! I lost another 1kg =) *pats back*