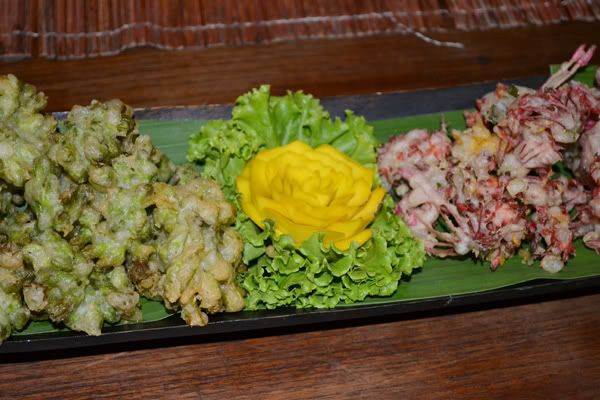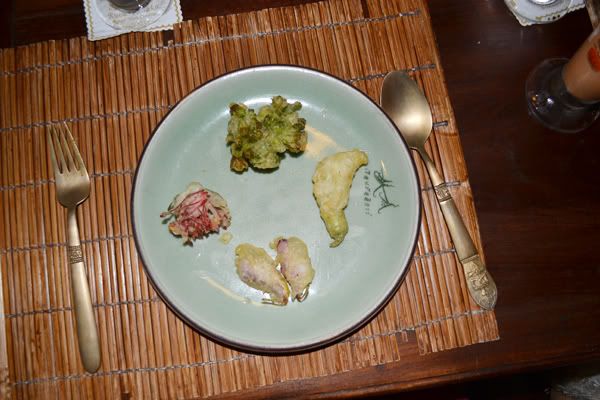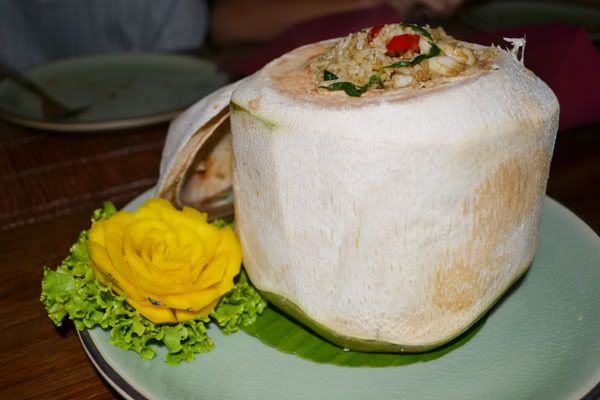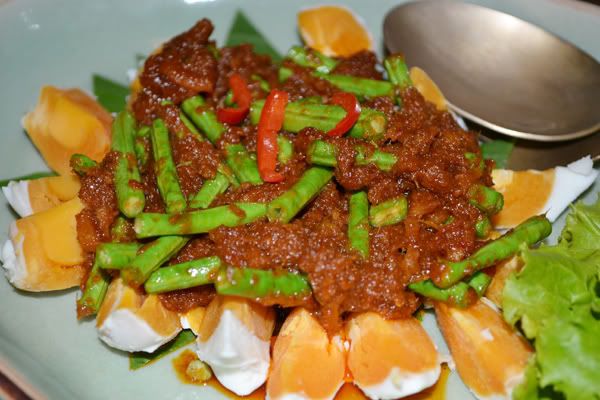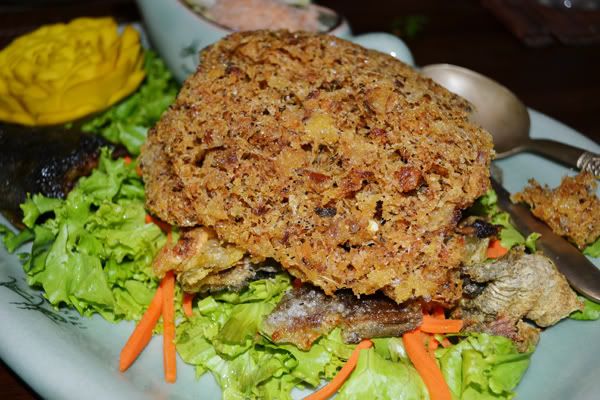 Royal Thai cuisine (can't remember the name, it's either khao san, mung bean, thaithai etc I speaketh no thai). Apparently the Thai King goes there for dinners occasionally when he was still healthy! :D My favourite was the Pad Thai (so so good, not pictured tho) and the long bean dish with salted egg. The chilli was jizzzzzzzzz, I could just finish the whole plate (minus 95% of the salted egg) without any rice, like that, it was THAT good. NOM.
Fried flowers!!! hahahaha I'm so healthy I eat flowers, what's next? Alfafa sprouts? (I kinda like alfafa sprouts don't laugh) It's basically edible flowers dipped in batter and deep fried. Just the fact that you're eating FLOWERS excites you, that's all. Other than that it's just 2 tbs of oil in every flower you're consuming. =( Too oily for my liking! The last dish looks like some yam basket but it's actually shredded fish meat deep fried till reallly crispy, and you eat with the kerabu salad at the side. NOMNOM!!!! Thai chillies are the BOMB! I had so much chilli that everytime I pass motion my ass hurts like, well, hurts a lot. hahahahaa And the milk tea ain't helping a lot either. =( But really, I think I overeat during the trip (you can verify that with my sister and my mom, they'll just give you THE nod lol)
HAHAHAH SUZIE WONG!!!!!! hahahahaha
and they were selling these marinated pork, which is then grilled in front of you. They smell like "lu rou" and I wanted to buy one right after dinner (yes that's how greedy I was, one meal after another).
And I ended my night with a packet of fries from Maccas, and I think they misheard my order for CHEESY FRIES. Did you hear that? They have CHEESY FRIES in MCDONALD'S THAILAND. I had another 1 pack the next day, and stole some of Wen's the day after. >.> So good. Yeah that pretty sums my Bangkok trip hahaha. Hence the 2kg gain (and prolly 2 full kgs of fats MEH!)