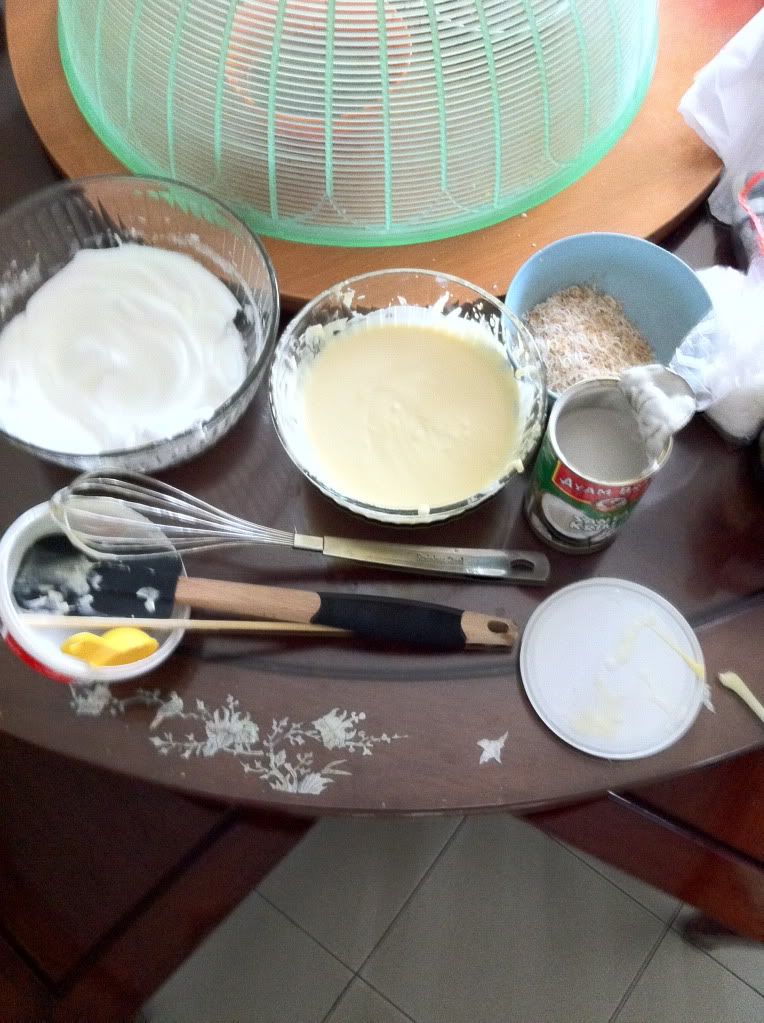 Had a can of coconut cream lying around and decided to make CAKE. This was made early last month in my crazy crazy cake fest. Was craving for some coconut, and some cake layer goodness, so Coconut Cream tiramisu it is.
You'll need:
a can of coconut cream (I use Ayam Brand, 400ml, but there'll be excess)
5 tbs Baileys (or depending how alcoholic you are)
1/2 shredded coconut, toasted till golden brown or a little crunchy (or more if you want more artery clogging action)
250gm mascarpone cheese
3 eggs, separated
3 tbs sugar
100ml water to dilute the coconut cream
20 sponge fingers
silvered almonds (toasted) for garnishing
Makes 1 4x8 inch loaf + 2 ramekins worth of tiramisu
cream egg yolks and sugar till pale and fluffy
beat mascarpone till creamy, then fold into yolk mixture, add in a little Baileys and coconut cream, till you get a creamy texture, mix in shredded coconut
beat egg whites till stiff peak stage
sacrifice a little egg white into mascarpone texture, and carefully fold into egg whites.
Dilute coconut cream (or use coconut milk/coconut water, just for flavour). You may add more Baileys if you wish.
Soak sponge fingers into coconut milk.
Assemble: layer thick layer of the coconut mascarpone cream, then arrange soaked sponge fingers evenly.
Repeat till you get about 2 layers, and finish off with a thick layer of coconut mascarpone cream, top with almond flakes and toasted coconut shreds. Chill till set, few hours or overnight.
EAT.

ps: no finished product cause I forgotten to snap a picture before it's gone. yumzaaa